Why JOBA?
At Just off Broadway we support and nurture the love and joy of dance! We believe that life lessons are learned at the studio and that dance is an important part of a child's full educational experience. At our studio we provide quality education through a team of professional teachers who are committed to inspire, train, and develop students of all ages and abilities. Experience our vibrant arts community devoted to professionalism and excellence in our classes, administration, performances, and general operations.  Here's why JOBA…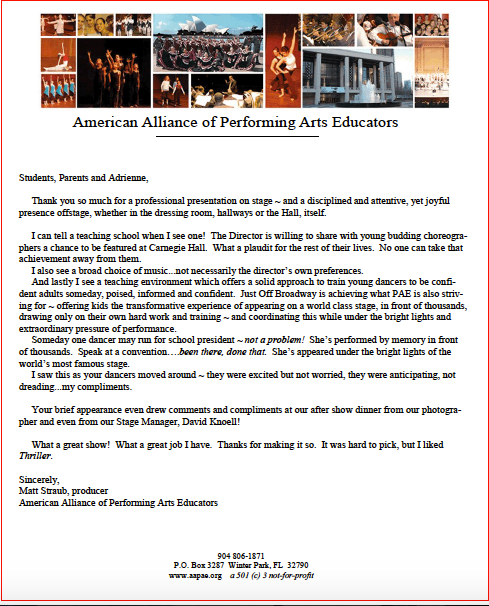 "Dear Adrienne and all the staff at JOBA,
What an amazing day Saturday was! Thank you so much for putting together a great show and giving all the kids such a great experience, especially our Susie. She was glowing with pride and excitement after the recital. As a parent, I have to say that I am so happy that she gets to be a part of the JOBA community. That is what it felt like on Saturday, a real family of people working together to give a good experience for the children and their fans. The recital itself was such a refreshing display of unity and celebration among people of all shapes, sizes, colors and skill level. It is hard not to feel emotional about how beautiful it was to have been a part of it. For as long as my children are interested in and excited by dance, they will be enrolled at this school.
Thank you again for all your hard work!!
Sincerely,
Rebecca Bellin and family"
"Hey Elyse…I got a groupon…wanna bring the girls to dance?" So thankful my sister-in-law asked me that 5 years ago. We enrolled them and haven't left. Whether you're in it for the fun or plan to hit the competition circuit, Just Off Broadway paves the way with professionalism, superior talent and without pretension. An abundance of classes and instructors ensures a perfect fit for all. Both owner and faculty at this dance academy are passionate about their craft and it shows through the smiles on the dancers' faces and the endless awards and trophies in the hallways. The end of year culminates not with a recital, but with an unparalleled dance production at Bergen Performing Arts Center in Englewood. You leave the theater in awe and utter amazement at the progress your child has made as well as the level of talent just displayed by all the students. Looking forward to September and my daughter beginning her 6th of many more years to come at Just Off Broadway.
"My son and daughter have taken classes at JOBA for the past 4years ,(and I have taken an adult hip hop class). The instructors strike the right balance to create a both nurturing and structured environment. I couldn't be more pleased with our experience there!"
"This is my daughters 10th year at Just Off Broadway. The teachers are caring and professional. The recitals are in a beautiful venue and are always very special, What I like most is that Just Off Broadway manages to balance serious dance instruction with not taking themselves too seriously. They understand that the kids have school and other commitments and they don't discourage this. We've loved our experience here.?